'Fake duke' Alexander Wood loses conviction appeal bid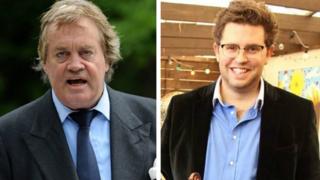 A conman who posed as the Duke of Marlborough and racked up bills of more than £10,000 in luxury hotels has lost a bid to overturn his conviction.
Alexander Wood, 35, from Southend, Essex, was jailed for three-and-a-half years in 2015.
He defrauded six top London hotels and had also pretended to be a senior member of British Airways staff.
A Court of Appeal judge said earlier that Wood's motive was "simple greed".
In 2015, Southwark Crown Court heard he was first arrested after booking into the Great Northern Hotel in King's Cross under the name Lord Jamie Spencer - the 12th Duke of Marlborough is called Jamie Spencer-Churchill.
Staff became suspicious of Wood when he exceeded his daily tab of £100 on the first night, buying expensive drinks for other guests. His bill totalled £1,738.
While on bail for that offence, he went on to defraud six top London hotels including Claridge's Hotel in Mayfair - where he spent £1,788 over three days.
Before admitting his offences, Wood initially tried to claim he had only committed fraud because he was seeking refuge from criminals in his home town.
He later admitted several counts of fraud by false representation.
At the Court of Appeal, Wood tried to claim that he had only pleaded guilty because of poor legal advice.
Judge Mr Justice Spencer said there was nothing wrong with what his lawyers had told him.
"It is quite clear no defence of duress, on the facts, could ever have succeeded," the judge told the court in London.
"The defence of duress was bound to fail. The convictions cannot be regarded as unsafe."