Beach huts destroyed in fire on Mersea Island in Essex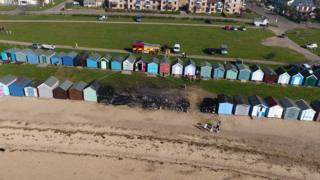 A fire has destroyed 10 beach huts on Mersea Island seafront in Essex.
Emergency services were called to Empress Avenue at about 01:45 BST on Sunday.
Essex Fire and Rescue Service said that several of the huts contained propane gas cylinders which had to be removed and cooled to make them safe.
The blaze was extinguished by 03:00 BST and Essex Police said they were working with the fire service to investigate the incident.
According to Facebook group, Crimewatch Mersea Island, other beach huts nearby had been broken before the fire.
A post about the incident on a group called "Secret Mersea Island" had attracted more than 1,000 posts with people calling it "heartbreaking" and "incredibly sad".
Mike Forward owns a beach hut behind those which burned down. He said: "We came down here at about 10:45 this morning, walked down the path and we saw this devastation in front of us.
"We know these people. They've taken what they can out of their huts and salvaged things. Obviously they're very upset"