Dexter Neal dog death: Pet owner given suspended jail term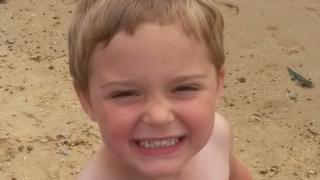 A woman whose dog mauled a three-year-old boy to death has been handed a suspended jail sentence.
Dexter Neal died after he was attacked by an American bulldog while playing in Halstead, Essex, in August.
Jade Dunne, now of Kelvedon, pleaded guilty in April to owning a dangerously out-of-control dog resulting in death.
She was sentenced at Chelmsford Crown Court to a year in prison, suspended for two years, and banned from owning dogs for 10 years.
Dunne was also ordered to carry out 100 hours of community service.
For more on this and other stories, visit BBC Local Live: Essex
Dexter was bitten by the animal while playing with Dunne's children at her former home in Parker Way on 18 August.
The dog, called Ruby, pushed Dexter to the floor as he walked into a lean-to with his sister where the dog was kept, the court heard.
Dexter's mother tried to resuscitate him, but he died from cardiac arrest after being airlifted to Addenbrooke's Hospital in Cambridge.
Judge Karim Khalil said: "Nothing I can do or say can in any way diminish the pain of the Neal family at the loss of little Dexter."
Kate Davey, prosecuting, said Dexter bled "copiously" and could not get up after being knocked over by the rescue home dog, which may have shown "prey behaviour".
"Dexter did absolutely nothing to provoke the dog," she said.
Dexter's house backed on to Dunne's and he would often be lifted over the fence to play there, but had walked around on the day he was attacked.
Steven Levy, mitigating for Dunne, said: "She's very sorry that having a family dog has brought about the sad loss of Dexter."
He said the mother-of-three - of previous good character and remorseful - apologised, through him, to Dexter's family.
The dog was seized by police and later destroyed.