In pictures: Fifty years since Ford's Comuta electric car trial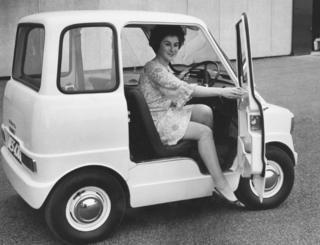 Fifty years ago, Ford launched an experiment in the electric cars market.
It unveiled its Comuta model in June 1967, built at the car giant's Dunton Technical Centre, near Laindon in Essex.
Using technology similar to that used in a milk float, it could travel 40 miles (64km) at a speed of 25mph (40km/h).
At the time of its unveiling, Ford said: "We regard this as a step in our programme to develop a commercially practical electric car."
A Ford spokesman said: "There was never an intention to put it into production. It was an experimental car, with just two Comutas built - one is now in the Science Museum."
Now, the company has seven electric vehicles it plans to introduce over the next five years.
Registrations of new ultra-low emissions vehicles, such as plug-in electric cars, are rising sharply. Between April and June 2016, there were nearly 10,000 electric vehicles registered.
Here is a look back at the Ford Comuta in pictures: