Garden DIY SOS for terminally ill Tollesbury firefighter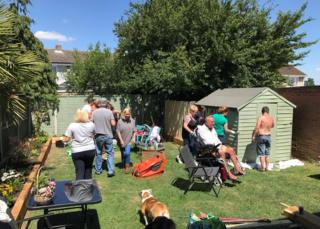 Volunteers have transformed the garden of a firefighter who was forced to retire when he was diagnosed with a terminal illness.
Darren Black, 50, from Tollesbury, Essex, had served with the fire brigade in Hertfordshire for 12 years before medics diagnosed him with motor neurone disease.
His garden was redesigned to make it more wheelchair-friendly by 80 people.
Organiser Sara Carter said it was the "best day ever".
Updates on this story and other Essex news
Ms Carter got involved in the project after hearing about Mr Black's story and asking him if there was anything she could do to help.
Mr Black, who has run 12 marathons, said he would love to be able to get out into his garden more.
Ms Carter said she took inspiration by the BBC One television show DIY SOS.
The army of helpers, who got to work on Sunday, included friends, family, Tollesbury firefighters, the village's Royal British Legion and businesses from the area.
Ms Carter said: "We all had a great day and we achieved such a beautiful garden for Darren, his wife Sue and daughter Chloe and I think they loved it."