Essex fire: Flames engulf Basildon packaging warehouse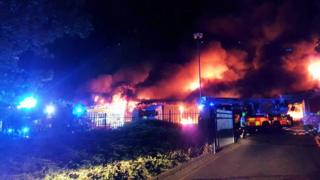 A huge fire has broken out at a packaging warehouse in Essex.
At its height, about 100 firefighters tackled the blaze at the building in Festival Way, Basildon.
Residents reported hearing two "massive explosions" and seeing "plumes of thick smoke" at about 00:20 BST. No casualties have been reported so far.
A spokesman for Essex County Fire and Rescue Service said it worked "extremely hard in tough conditions" to bring the blaze under control.
The officer in charge, Neil Fenwick, said: "Crews have done a brilliant job stopping the fire from spreading."
Locals tweeted that large clouds of smoke could be seen above the building.
A health worker from London, who had been at Chelmsford's V Festival, told how she and friends were forced to get out of a taxi on their way to their hotel as the road had been sealed off.
Mollie Houliston said: "We saw the huge blaze which was across from the street we were walking on.
"There were loads of fire service people around.
"It got really scary when we heard two bangs while watching the raging blaze across the other side of the street."