Essex warehouse fire: Firm says building is destroyed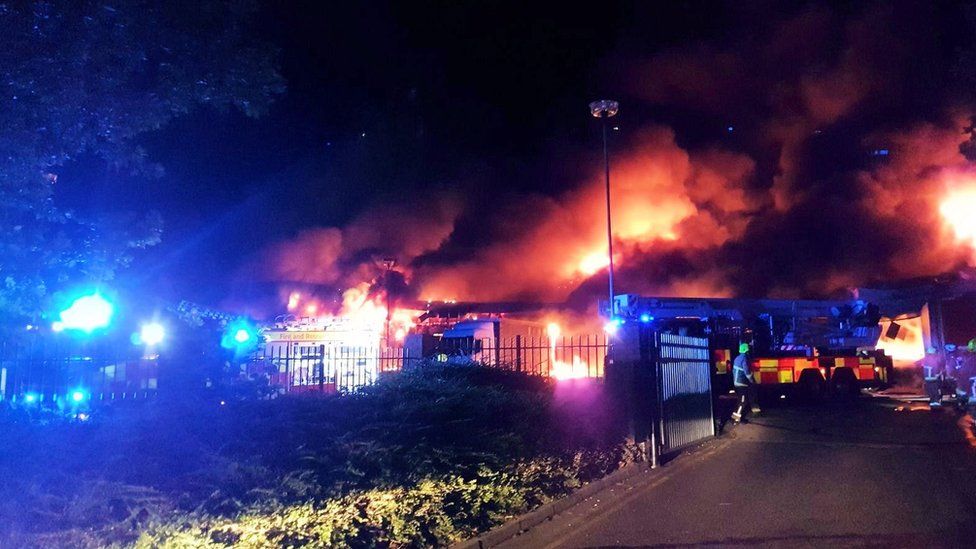 A major fire has destroyed a warehouse in Essex owned by a parcel delivery company.
The firm said contingency plans were "now in action to enable us to return to business as usual".
The fire is out but a digger will be used to find any remaining hotspots, Essex fire service says.
Residents reported hearing two "massive explosions" and seeing "plumes of thick smoke" at about 00:20 BST.
A spokesman for Essex County Fire and Rescue Service said no casualties had been reported and two fire engines remained at the scene overnight.
P2P Mailing confirmed its Basildon facility had caught fire.
"Fortunately, no-one - employees or members of the public - were hurt," managing director Paul Galpin said in a statement published on the firm's website.
"We are working with the relevant authorities to determine the cause of the fire and to ensure minimal disruption to the local area.
"Our thanks are extended to the emergency services that attended the incident for the extremely efficient and effective manner in which the incident was brought under control.
"Our comprehensive short-term contingency plans are now in action to enable us to return to a business as usual status with as minimal disruption as possible to staff and customers," the statement added.
Related Internet Links
The BBC is not responsible for the content of external sites.