Vilson Meshi death: Two teenagers guilty of manslaughter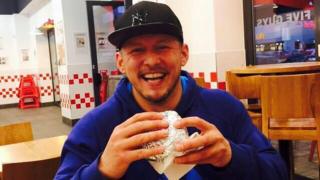 Two teenagers have been found guilty of killing a man by throwing a marine distress flare into a car in which he was sleeping.
The body of Vilson Meshi, 30, was found in a burnt-out Audi A4 in Pitsea, Essex, on 27 February 2016.
Keani Hobbs, 18, of Stagden Cross, Basildon, was charged with manslaughter along with a 16-year-old boy, who cannot be named because of his age.
The pair were convicted following a trial at Chelmsford Crown Court.
Mr Meshi had driven to Pincey Mead from his home in Manchester on 26 February in order to see his children from a previous relationship, Essex Police said.
His former partner reported him missing the following day when he failed to turn up or answer any calls or messages.
When officers arrived, they found there had been a fire in the vehicle, where Mr Meshi's body was found in the back. A post-mortem examination found he died from breathing in fumes.
Paul Scothern, from the Crown Prosecution Service, said: "A marine distress flare burns at an incredibly high temperature and the consequence of throwing a lit flare into an enclosed space such as the car where Mr Meshi was asleep was shocking."
Remnants of a hand-held flare were found in the car and in a nearby alleyway. Flares of the same make and model had been reported stolen a week earlier from Wat Tyler Marina in Basildon.
Hobbs and the 16 year old denied stealing the flare or any involvement in Mr Meshi's death.
"We were satisfied when reviewing the case that there was sufficient evidence that both were jointly responsible for the theft of the flares and also for Mr Meshi's death," Mr Scothern said.
"We believed there was no deliberate intention to kill Mr Meshi and that the appropriate charge against them both was one of manslaughter."
Mr Meshi's family described him as "a loving and caring man who would help anyone that needed it".
"Vilson is dead below the ground but we are dead above the ground, our hearts are broken."
The pair will be sentenced on Friday.