Broken coffin repairs 'to cost £100' at Southend museum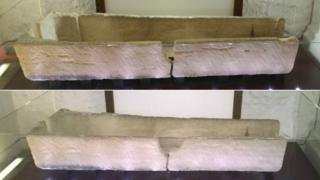 Repairs to an ancient coffin damaged when visitors to a museum put a child inside it are to cost a "negligible" £100, a council says.
The 800-year-old sarcophagus came off its stand while a child was posing in it for a photo at Prittlewell Priory Museum in Southend, Essex.
The sandstone coffin, thought to be that of a prominent monk, was left with a small section missing from the rim.
Southend Council said the cost of the repairs would likely be "negligible".
CCTV cameras did not clearly capture the incident, which happened on 20 August.
"To prevent future damage we also now feel that the coffin needs to be completely enclosed and the Curatorial Team are assessing how this can best be done," said Ann Holland, executive councillor for culture at the local authority, which runs the museum.
"The area will reopen as soon possible," she added.
"In the meantime we would like to remind all visitors that they should observe and respect any barriers and signs in place that are there to protect our important heritage and history."
The repairs will be carried out by the museum's in-house conservator Claire Reed, the council said, using specialist adhesives.
"This isolated incident has been upsetting for the museums service, whose staff strive to protect Southend's heritage for the benefit of our visitors and enrichment of their experience within our historic sites," Ms Reed said.
"My priority as museums conservator, is to carefully carry out the treatment needed to restore this significant artefact so it can continue to be part of the fascinating story of Prittlewell Priory."