Harlow at 70: Colouring book draws on town's artistic history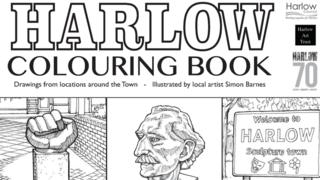 A colouring book has been made to mark the 70th birthday of a new town that became one of the UK's first post-war settlements.
Artist Simon Barnes' 22 drawings celebrate buildings, landscapes and public sculptures in Harlow, Essex.
They include pictures of work by famous sculptors Auguste Rodin, Sir Henry Moore and Leon Underwood.
The town was founded on 25 March 1947 and designed by Sir Frederick Gibberd for 60,000 people.
All the pictures have been produced from photos taken by Mr Barnes.
"I have lived in Harlow since I was a teenager in the mid-70s," he said.
"I have always enjoyed the green spaces and public art that are within the boundaries of the town.
"Because I'm an artist I wanted to share my enjoyment of the town spaces, since we are a 'sculpture town' it was easy to draw the public areas that display the sculpture and a slice of history."
The colouring book is available to download for free and digital copies are being sent to all schools in the town.
Harlow history
It became one of the UK's first post-war settlements in 1947 following the previous year's New Towns Act
The Lawn was credited as being the first residential housing block of its kind in the UK when it opened in 1951
In 2010 it became the first sculpture town in the world, with more than 100 public works of art
The current population is about 82,000 and is expected to rise to nearly 90,000 by 2021