Goldfish dumped in Clacton public pond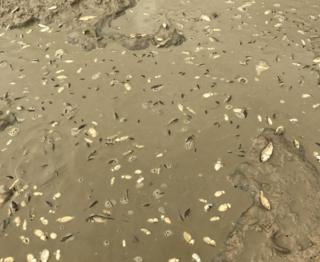 Hundreds of goldfish were rescued after they were found "suffocating" in a public pond in Essex.
The RSPCA was called to Brook Country Park in Clacton after walkers spotted the fish struggling in mud on Monday.
It said the large pond had evaporated and been reduced to a small 3ft (91cm) by 3ft (91cm) muddy wallow. It said there were 300 fish but 50 had died.
"They were effectively suffocating in front of my eyes," said animal collector officer Joe White.
"It was a really awful sight to see the fish flapping around and struggling in the mud."
Mr White used a large container of water to rescue the fish.
He took them to South Essex Wildlife Hospital.
The RSPCA has urged goldfish owners and keepers not to dump their pets in public ponds and lakes.
It said goldfish were not native to the UK and should not be released into waterways or ponds in England or Wales.
Under the Wildlife and Countryside Act 1981 (as amended) it is an offence to release or allow to escape any non-native species into the wild.
Mr White said: "I suspect a number of goldfish were dumped in this pond when someone decided they no longer wanted to keep them.
"Left to breed in a large pond the numbers have quickly spiralled out of control and over-populated a small amount of water.
"It's been so hot and dry recently that, unfortunately, this small pond quickly dried up and left these fish to die a slow and painful death.
"Thankfully someone spotted them in the nick of time and we were able to save most of them."