Michael Barrymore: Essex Police refused appeal permission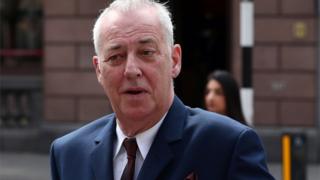 Police have been refused permission to appeal against a finding that Michael Barrymore is entitled to "more than nominal" damages for wrongful arrest.
The 65-year-old claimed the questioning on suspicion of the rape and murder of Stuart Lubbock destroyed his career.
Essex Police admitted the arrest was unlawful but argued Barrymore should only receive a nominal payout, rather than the £2.4m he is trying to claim.
A High Court judge ruled the force cannot appeal against his finding.
How the British TV king lost his crown
An Essex Police spokeswoman said: "We will be considering our next step in regards to the appeal following today's hearing."
In August, Mr Justice Stuart-Smith ruled on the issue of the level of damages to be awarded to Mr Barrymore, deciding that because the arrest was unlawful he should be "entitled to recover more than nominal damages".
An exact figure for the damages is yet to be set.
Mr Barrymore - whose real name is Michael Parker - was detained alongside two other men in 2007 following the death of Mr Lubbock in 2001.
The butcher's body was found floating in the swimming pool at the star's home in Roydon, Essex, following a party.
The three men were questioned but later released without charge.
The arrest was unlawful because the officer who carried it out did not have reasonable grounds to detain the entertainer, Mr Justice Stuart-Smith said in August.
The officer who was supposed to carry out the arrest was stuck in traffic, police said.
Mr Barrymore's barrister previously told the court the arrest had been made "without any proper evidential foundation", and said it had destroyed his client's career.
Despite the judge's refusal, Essex Police can still pursue the application directly with the Court of Appeal.