Leona Lewis 'disgusted' by goat's electric fence attack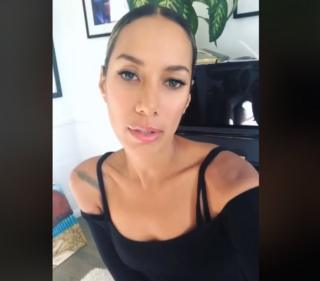 Singer Leona Lewis has expressed her "disgust" after vandals broke into an animal sanctuary and pulled a goat against an electric fence.
The star is a trustee of Hopefield Animal Sanctuary near Brentwood, Essex, where the attack took place in August.
Nathan the goat has since recovered, but is said to "no longer trust people".
Lewis released a video saying she and the charity were "heartbroken" and would "fight" to catch the offenders.
It was the third time the charity had been targeted in the past two months, Lewis said in a video released to her five million Facebook followers.
Nathan was attacked on 1 August, and afterwards the offenders posted photos on social media.
Talking about the attack in a video, trustee Lewis, said: "Nathan came up to the gate because he thought that he was going to get some attention and some love... and this guy pulled him in and basically started to abuse him.
"Our animals at Hopefield are there because they've already been through abusive situations and it's just disgusting that people could come there and target a charity that has animals that have already been through such traumatic suffering," she continued.
The charity believes some of its horses were also attacked, but had no CCTV footage of that incident.
"I'm just disgusted at these people. They need to be prosecuted," said Lewis.
"For them to come in, and the place to be vandalised... they [staff] are now in fear and have to pick up the pieces of what these people have done.
"This can't be allowed to happen. It's just not acceptable."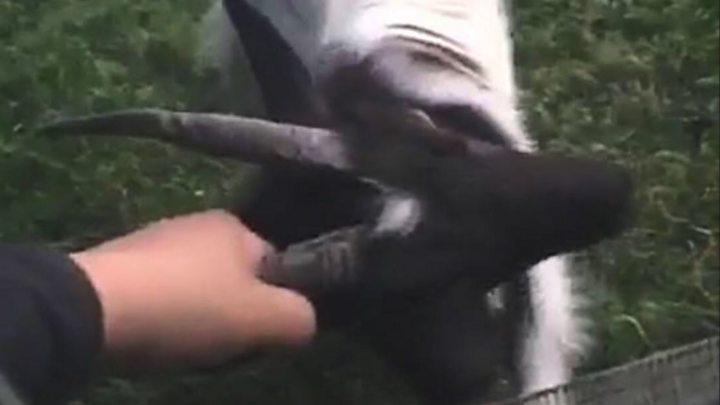 Sanctuary manager Leanne Angress said when the goat arrived at the centre he did not trust people, "but we managed to get that trust back and he became quite a friendly goat".
"Now, since being pulled into the electric fencing, he doesn't come over to say hello to you in the morning... so the trust has gone."
Staff have started raising funds for new security equipment.
About £5,500 has so far been pledged.
Essex Police confirmed it was investigating the break-ins.