London Stansted Airport records its busiest ever September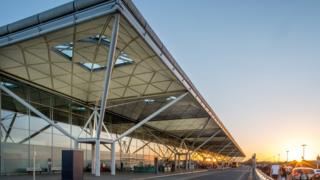 The popularity of holidays outside the peak summer months is thought to be behind a record-breaking number of passengers flying from Stansted.
More than 2.45 million people used the airport in September, breaking the previous record for the month set in 2007.
Year-on-year, the increase was 12.6%, with an extra 275,000 passengers.
The airport says growth in holidays to Turkey, Bulgaria, France and Croatia helped boost numbers.
Chief executive Ken O'Toole said: "The strong growth was also reflected in record load factors, with each aircraft carrying more passengers than ever before at this time of year, ensuring available capacity is effectively and efficiently utilised by our airline partners."
Last month, the airport denied its growth rate would be affected by Ryanair's decision to drop services from Stansted to both Glasgow and Edinburgh, saying it expected to see continued growth for the foreseeable future, despite the cutbacks.
Stansted Airport is the UK's fourth-busiest airport, behind Heathrow, Gatwick and Manchester, handling more than 25 million passengers a year, and flying to almost 200 destinations.
Over the next decade it has committed to an investment programme which it says will see the biggest upgrade in passenger facilities at the airport since its new terminal opened in 1991.
The plans include a new £130m arrivals building, revamping the existing terminal and enhancing passenger services to allow the airport to handle more than 35 million passengers a year.