Brentwood robbery: Police hunt 'purple dye' cash box thief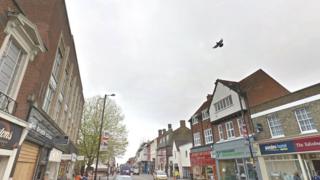 Police are hunting a suspected robber who might be covered in purple dye after stealing an empty cash box from a security guard.
The guard had the box grabbed from his hand in High Street, Brentwood, Essex at about 13:15 BST on Wednesday.
The suspected robber then got into a blue Ford Fiesta, which had false registration plates, and was driven by getaway driver.
The box was later found abandoned. The security dye had been triggered.
Det Sgt David Wilkinson said: "The security guard was unhurt and fortunately there was no money in the box.
"I'm appealing for witnesses who saw what happened, or saw the car and its occupants in the Park Road area.
"The suspect is also very likely to have purple dye on him."