Harlow fatal fire: Re-appeal on five year anniversary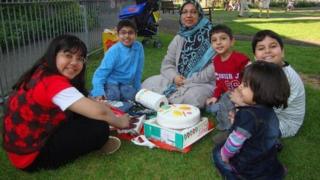 Detectives investigating a fire which killed six members of the same family say "loyalties that once existed may have changed".
Sabah Usmani and her five children died in the blaze in Barn Mead, Harlow on 15 October 2012.
The fire was started in the downstairs lounge while the family slept upstairs.
On the five-year anniversary of the murder, Essex Police said the case was one of the "most difficult and challenging" it had ever undertaken.
Dr Abdul Shakoor was the only survivor of the fire which claimed the lives of his 44-year-old wife Dr Usmani and five children - daughters Hira, 12, and Maheen, three, and sons Sohaib, 11, Muneeb, nine, and Rayyan, six.
The fire is understood to have been started during a burglary at the family's home in which a laptop computer was stolen.
A silver Ford Focus was set alight near the address at about the same time.
Dr Shakoor, who jumped from an upstairs window in a bid to raise the alarm, said: "Every day I think about my wife and children, the pain has never gone away.
"It is impossible to put in to words the pain and grief I have endured at the loss of my entire family.
"I will never understand why somebody did this and I live in hope that someday someone may come forward with information."
Det Ch Insp Stephen Jennings, who is leading the investigation, said: "Nobody will ever be able to imagine the trauma, horror and grief that Dr Shakoor has endured.
"We know the answer to this investigation lies within the community of Harlow. Five years on and loyalties that once existed may have changed."
Lines of inquiry
Essex Police want to hear from:
A white man aged in his late teens/early 20s seen on a bicycle in the area when the house and car were set alight
Anybody who knows the whereabouts of the family's black Toshiba Satellite laptop computer which was stolen the night of the fire
Anybody with information about how the bag and lead for the Saudi-bought laptop came to be left between Whitewaits and St Michael's Close
Anybody in Harlow whose shaver plug went missing at about the time of the fire. An adaptor was found with the abandoned lead and bag but did not belong to the Shakoors
Anybody with information about the car fire
The person who rang Harlow police and left a message about the fire in November 2012
The person who left a piece of paper about the murder investigation on a shelf in Boots in Harlow