Essex housemaster accused of school shower abuse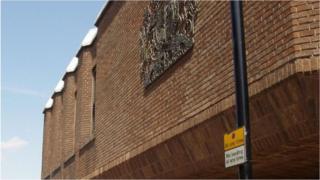 A former housemaster indecently assaulted an 11-year-old pupil in the communal bathroom of a boarding school, a court has heard.
Brian Truan, aged 80, of Peldon near Colchester, is accused of 12 counts of indecent assault against four boys.
Chelmsford Crown Court heard all of the alleged offences happened at Elmbridge boarding school near Fyfield between 1985 and 1988.
Mr Truan denies all of the charges.
Elmbridge closed in 1994.
The court was told the incidents took place in a number of locations, including the school's communal showers, the bedroom and bath in Mr Truan's private flat and his separate home in Peldon.
'Scared, embarrassed'
Tim Brown, prosecuting, said Mr Truan became "physically interested" in one of the boys and " that interest developed into sexualised behaviour".
"The defendant took to supervising the pupils washing in the communal bathroom," said Mr Brown.
"Mr Truan progressed from simply supervising the bathing and washing of the complainant to physically doing that himself and... he would wash his back and chest and his body generally, but in particular he would touch and wash between his buttocks, his bottom and his penis and that general area."
He said the distress led to the boy becoming incontinent.
Giving evidence in court, the alleged victim said: "I was scared, embarrassed. I live with the effects of what he did even now."
The case continues.