Colchester Hospital: Inspectors find 'significant improvement'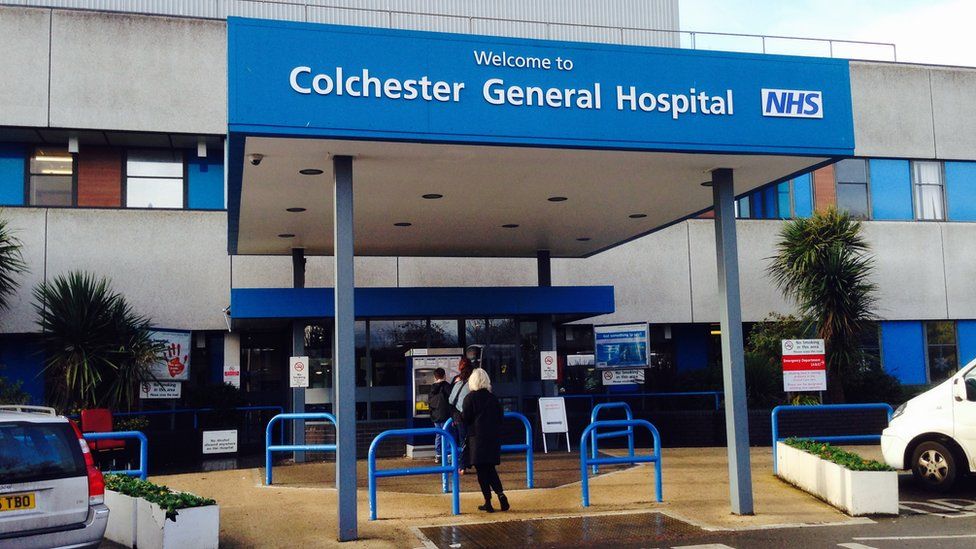 A hospital which has been in special measures since 2013 over concerns about cancer waiting times has significantly improved, inspectors said.
Colchester Hospital was investigated for inaccuracies in its waiting time figures and was repeatedly rated as inadequate by the health watchdog.
But in July and August, inspectors found "considerable improvements".
The chief inspector of hospitals has recommended the trust should be removed from special measures.
"While there is still work to be done at the trust, reflected in its overall rating of requires improvement, there is no doubt that much positive change has taken place," said Professor Ted Baker.
"This is testament to the hard work and commitment of staff and the trust's leadership, and they are to be congratulated for what they have achieved."
The trust was rated by Care Quality Commission (CQC) inspectors as "requires improvement" overall, and as "good" for whether services are effective, caring and well-led.
January 2015: Hospital rated "inadequate" by the CQC, leading it to take "urgent enforcement action"
July 2015: Checks by the CQC found continued problems with patient care
January 2016: CQC inspectors find some patients are at "high risk" of harm
April 2016: Colchester Hospital entered a partnership with Ipswich Hospital to deliver safe care following another damning report which called for a "radical solution"
July 2016: Chief Executive Nick Hulme issued a "heartfelt apology" after an inspection found concerns around clinical leadership, a bullying culture on one ward, and staff shortages.
August 2017: NHS trust boards of Ipswich and Colchester Hospitals voted to develop plans for a single combined organisation to care for patients
Professor Baker said inspectors also found a "strong leadership team" and "stability in the senior executive team that we had not previously seen".
The hospital's chief executive, Nick Hulme, said the latest Care Quality Commission (CQC) report into Colchester was "a significant achievement".
"When I arrived in 2016, I said this is about more than just the CQC and we needed to concentrate on doing the right thing for our patients," he said.
"Today's news shows that patient-focused services deliver better care."
The hospital has been told to make improvements with maintaining equipment, safeguarding and mandatory training for nursing and medical staff and ensuring access to a designated mental health assessment room among other areas.