Donation doubles Maldon boy's sum for homeless project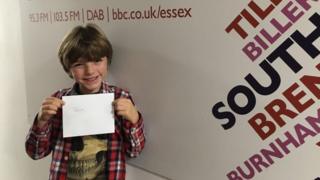 A seven-year-old boy who sold his toys to raise money to buy supplies for rough sleepers has doubled his donations thanks to a stranger.
Jacob Rabi-Laleh, from Maldon, Essex, organised a garage sale to collect backpacks, blankets and other supplies to keep people warm during winter.
A BBC Essex listener who heard about his project decided to double the amount raised, taking it up to £1,000.
Jacob said he was "amazed" by the gesture.
His mother Stephanie Bannister, 28, said the extra £565.75 from Mike Crosby from Colchester, added to the £434.25 raised by Jacob, would make a huge difference.
"We've been looking at how to order things as cheaply as possible, but now we can get things more easily," she said.
"We were looking at scrapping hot drinks flasks and thermal underclothes and now we won't have to do that. It's made a world of difference."
Jacob decided to gather supplies after seeing a group of homeless people taking shelter in Brighton.
Mr Crosby said he had been moved to make the donation by what Jacob was doing.
"My wife and myself, we never had a boy, but if we had then we'd have wanted a little Jacob," he told BBC Essex.
Jacob will be collecting tinned food, breakfast bars, hot drinks sachets and deodorant outside Tesco in Maldon on 18 November to add to his supplies.