Cat brought into 'custody' adopted by Essex Police officer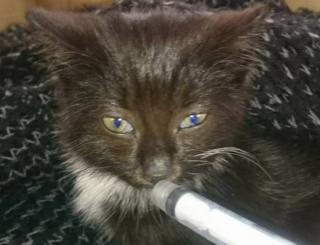 A tiny underweight kitten, taken to police after being found abandoned, has been adopted by the officer who took her into "custody" for safekeeping.
While officers are not permitted to take home lost property handed in to a station, with no sign of its mother or owner, "Elsa" was the exception.
The hungry kitten was taken to Colchester station where PC Adam Westall called a vet.
After taking her home to hand-rear her, he has now adopted Elsa permanently.
She was both underweight and starving when she was found on Thursday and brought in to the station.
"While we insist that people call the RSCPA, Cats Protection or visit a sanctuary, in this instance our officers were quick to help," a police spokeswoman said.
A vet "insisted she needed plenty of meals and nurturing," she added.
PC Westall stepped in, agreeing to take her home with him.
"With regular meals during the day, and at times in the early hours of the morning, Elsa is healthy and bouncing around," he said.
"She has shown us plenty of affection and has since become a part of our family."