Amy Vigus ecstasy death after Elrow Town Festival 'accidental'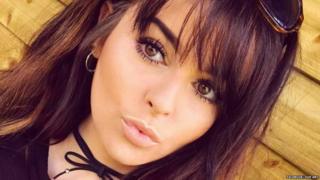 A 20-year-old woman who took the illegal drug ecstasy at a music festival died accidentally, an inquest concluded.
Amy Vigus, of Colchester, died of lack of oxygen to the brain due to MDMA toxicity, the coroner's court heard.
She had been at the Elrow Town festival at London's Olympic Park on Saturday, 19 August.
She felt unwell and managed to get the train back to north Essex with friends, but collapsed and died in hospital.
The inquest in Chelmsford heard she arrived in Stratford with three friends at about 14:00 BST and bought what she believed was a "MDMA bomb" from a man.
Det Insp Gary Biddle, who investigated for Essex Police, said she became unwell at about 17:00 BST.
She was given a vitamin C tablet and water at the festival's medical tent and continued to enjoy the event, which was due to finish at 22:00 BST.
'Tragic circumstances'
She later collapsed and regained consciousness outside the festival and a call was made to her mother Karen, who was due to pick the friends up anyway.
The group were met at Kelvedon railway station at 23:45 BST.
Ms Vigus went to bed, but she was found unresponsive on Sunday morning and taken to Colchester General Hospital, where she died the next day.
Recording the death as accidental, the coroner Caroline Beasley-Murray said: "My conclusion is that it was a very tragic set of circumstances."
Ms Vigus's family, who were at the inquest, produced a Facebook video the week after her death which warned others of the "consequences of her mistake on herself and the family she has left behind".
Det Insp Biddle said no-one had been arrested for selling the drug and although the investigation was not closed, neither they nor the Metropolitan Police had any leads at present.