Chelmsford prison staff shortages 'put guards and inmates at risk'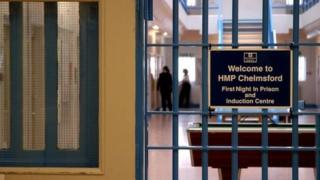 Staff shortages at an Essex prison are putting officers and inmates at risk, independent monitors have warned.
In its report, the Independent Monitoring Board (IMB) at Chelmsford prison said the number of assaults had risen from 162 in 2012 to 414 in 2016.
The board accused the Ministry of Justice of causing "inadequate" staffing levels by offering experienced officers early retirement.
The Ministry of Justice said "significant action" has been taken.
The board said the 750-inmate capacity prison was meant to have at least 144 staff. However, in April, just 113 officers were available for duty.
In the past year three inmates have killed themselves.
The board said: "Whilst it is not possible to establish a direct link between deaths in custody and low staffing levels, the board does believe that too few staff means reduced vigilance.
"The board's major concern is that for much of the reporting year staffing levels were inadequate, the principal reason for which was the decision taken by the Ministry of Justice some years ago to offer a significant number of experienced officers early retirement and to freeze staff pay."
A spokesman for the Ministry of Justice said: "HMP Chelmsford has already taken significant action to address the concerns raised by the Independent Monitoring Board.
"A dedicated recruitment campaign is under way, and the prison have achieved their benchmark target of 172 prison officers in post.
"There has also been a significant investment in improving safety and reducing violence, including the introduction of body worn cameras, upgrading CCTV and installing additional drug netting in vulnerable areas."