Essex country parks get Tom Cruise Mission Impossible filming fee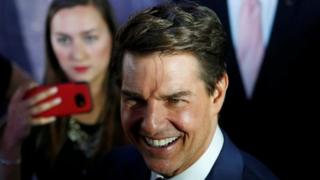 A parks service which hosted the "glitz and glamour of Hollywood" for a new Tom Cruise film received a £32,000 fee, it has emerged.
Thorndon Country Park in Essex was chosen as a location for filming by scouts for Mission: Impossible 6.
Cruise, 55, was involved in the filming near Brentwood during September.
Essex County Council's country parks service said it would use the £32,000 on supporting "the maintenance and development" of its parks.
A council spokesman said: "We did not promote the site to the filmmakers, in this case they came to us after location scouts visited Thorndon Country Park and saw what a fantastic location it made for their film.
"It's not something that happens every day, but we were pleased to welcome the glitz and glamour of Hollywood to one of our country parks for a short time in September."
Filming for the latest instalment in the franchise was halted in August when Cruise broke his ankle jumping between two high-rise buildings in London.
The movie is due to be released in July.