Santa targeted by stone-throwing gang in Canvey Island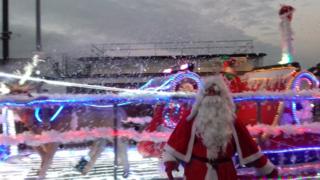 A man dressed as Father Christmas had stones thrown at him and his sleigh by a gang of youths following a town centre Christmas parade.
Colin Letchford, 70, was hit on the shoulder after Canvey Island's annual lantern parade on Saturday.
The retired teacher said the stone "skidded across the hat" of a seven-year-old girl dressed as an elf next to him.
He added the boys, aged between 12 and 16, were now on his "naughty list".
Essex Police said inquiries were ongoing after officers searched the area for suspects, having being called to a report of an assault shortly before 18:45 GMT.
Mr Letchford said he felt "angry" towards the boys as they could have hurt the young girl in an incident first reported by The Sun.
A police spokesman said: "A man has been hit by a stone thrown in Furtherwick Road, by a group of around 12 to 15 boys, aged between 12 and 16 years old.
"The victim was taking part in the Santa sleigh ride through Canvey and was uninjured."