Breck Bednar murder: Film aims to protect boys from grooming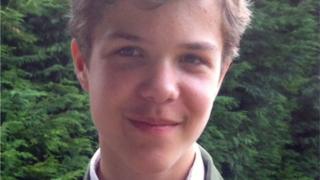 The story of a 14-year-old boy who was lured to his death by a man he met online is to feature in a short film about child sexual exploitation.
Breck Bednar, from Caterham, Surrey, was murdered by Lewis Daynes, 19, at a flat in Grays, Essex, in January 2014.
Four police forces are combining to produce the film aimed at educating and protecting boys from grooming.
It comes two years after a film about the grooming, rape and murder of 15-year-old Kayleigh Haywood.
The video has been viewed by an estimated 36.6m people worldwide, police said, and the same company which produced "Kayleigh's Love Story" will also make "Breck's Last Game".
Breck's mother Lorin LaFave said she watched the film about Kayleigh and realised she wanted "similar exposure for Breck's tragedy".
"I believe only through education of grooming and exploitation can we strive to empower our young people to keep safer online," Ms LaFave said.
"Because the characteristics of grooming are similar, with the control, manipulation, befriending, compliments, gifts, building a relationship through shared interests and laughs, I felt that a boy's version with gaming and computing was a natural follow-on to Kayleigh's version of a girl being groomed through social media for a relationship."
Daynes was given a life sentence in 2015 for murdering Breck, whom he lured to his flat after promising him "great wealth" via a fictional computer business.
The grooming began in 2013 via a gaming website. In the days before the murder, Daynes instructed Breck to tell his father he was going to a friend's house, and to later ask to stay overnight.
The film about Kayleigh directly led to 50 children in Leicestershire coming forward and disclosing that they were being groomed by predators, police said.
Breck's Last Game is being funded by Leicestershire's Police and Crime Commissioner Lord Willy Bach with additional contributions from Surrey Police.
Forces from Essex, Surrey and Northamptonshire are also involved in the project.
Casting sessions are to be held in January and the film is set to be completed by mid-March.