Elvis fanatic's stolen collection to be replaced by record shop owners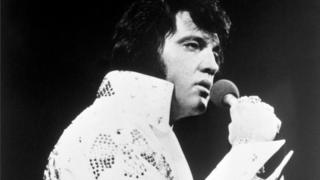 A record shop owner says he and other sellers will try to help out an Elvis fanatic whose valuable record collection was stolen in a burglary.
The victim, who is in his 70s, was left "completely distraught" by the theft from his home in Great Dunmow, Essex.
He had spent much of his life amassing the collection of more than 100 records, which included rare LPs.
Denholm Ellis, of Intense Records in Chelmsford, said he and others had "decided to club together" to help.
"This guy's lost all his records, but we've got a lot lying around in the shop, the sellers have quite a few in their boxes," Mr Ellis said.
"We've spoken to each other and decided to club together and put together as many Elvis records as we can at the next [record] fair at the start of January, and we'll try to get them to him."
Speaking after the burglary happened, the victim - who wants to remain anonymous - said the collection meant "an awful lot".
"It is not just the monetary value of these records; they have huge sentimental value and I just want them back," he said.
The burglary happened between 21 November and 3 December. Police believe the man's home was targeted because of his collection.