Women 'try to steal family Christmas dinner' in Southend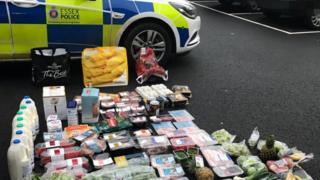 Two women were arrested after they were caught allegedly trying to steal what police described as a "family Christmas dinner" from a Waitrose supermarket.
They were arrested after officers were called to the store on Fossetts Way, Southend-on-Sea, Essex, on Friday.
PC Daryl Jones took to Twitter to show the haul. It included milk, fruit, vegetables, beer, meat and desserts.
One person on social media said it was "outrageous" and another asked "who they feeding, the 5,000?".
Essex Police said two women, aged 26 and 31, had been charged with theft.
They are due to appear before magistrates in Southend on 18 January.