Stansted Airport: Hundreds of passengers stranded overnight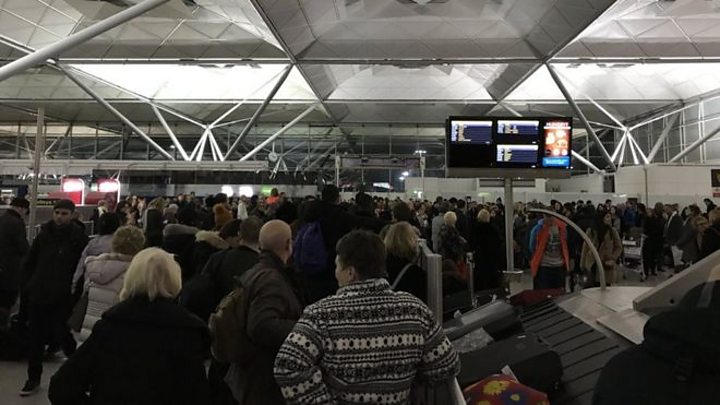 Up to 300 passengers were stranded overnight at Stansted Airport waiting to re-book flights because of bad weather.
The runway was shut twice on Wednesday to clear snow and ice, leading to almost 60 flights being cancelled.
Some passengers took to social media to describe the problems, with some saying it was "chaos".
About 100 passengers remained on Thursday morning, but all have now been dealt with by their airline.
In a statement, the airport said things are now "back to normal".
"Flights are operating on schedule and any passengers who were unable to return home after their flight was cancelled yesterday have been rebooked on to other flights," a spokesman added.
Dave Clayton, whose flight from Stansted to Cork was delayed by four and a half hours, said they were not given any information.
"There were these flights getting cancelled, people coming back in, people that were supposed to go all over Europe, but the thing with it was that we were given no information," he said.
"We were all just stuck there in the departure lounge, hundreds of people all crammed in and having absolutely no information whatsoever, and no-one from any of the airlines there either."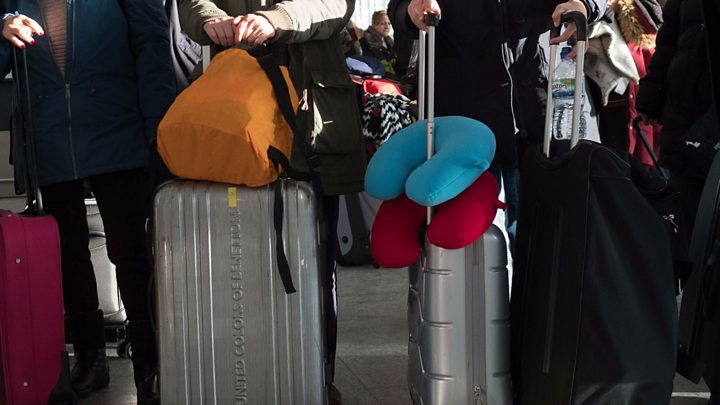 On Wednesday night, bosses at Stansted said beds and blankets were handed out to those who were unable to return home and free food and drink was also provided.
Many passengers posted online, with some describing the situation as "chaos".
Ryanair said it regretted being forced to cancel a "small number of flights" due to "snow-related runway closures".
"All affected customers were contacted by email and SMS text message and advised of their rebooking options," it said in a statement.
"We sincerely apologise to all customers affected by these weather cancellations and disruptions, which are entirely beyond our control."
It said flights were now operating as scheduled with some "minor knock-on delays".
EasyJet, which had to cancel eight flights from Stansted, said all passengers due to travel on these flights were given the option of transferring their flight free of charge or getting a refund.
"We are continuing to review the situation at the airport and would like to reassure passengers that we are doing everything possible to minimise the disruption," a spokesman said.
It has advised passengers due to fly from Stansted on Thursday to check the status of their flights on its website.
A yellow weather warning for ice remains in place for most of the UK.