Essex Police deputy chief in hurled stress ball probe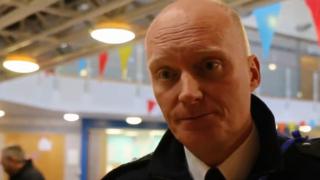 A deputy chief constable has been accused of injuring a fellow officer by hurling a stress ball at his throat.
Essex Police's Deputy Chief Constable Matthew Horne has been accused of breaching a number of police standards.
In August 2017, the Independent Police Complaints Commission (IPCC) found Mr Horne had a case to answer.
Although the force previously confirmed Mr Horne was accused of physical and verbal abuse, full details of the case have only now emerged.
A police misconduct hearing into the allegations against Mr Horne, who has been on secondment to the National Crime Agency, will be held later in January.
'Pushed'
He is expected to answer a number of allegations including approaching Supt Glenn Maleary outside the force's control room in June 2015 and repeatedly swearing at him with "clenched fists".
According to the allegations against him, Mr Horne then said he "had to leave before (he) punched something".
It is understood the alleged incident related to the perceived performance of the police control room.
The second allegation against Mr Horne is that he pushed a chief superintendent with both hands onto a desk.
The third allegation is that he "threw a rubber 'stress ball' at the same chief superintendant which hit him in the throat and left a red mark".
The hearing, to be held in Chelmsford from 15 January and overseen by Dorian Lovell-Pank QC, is expected to last six days.