Two Essex hospitals reach capacity over holiday period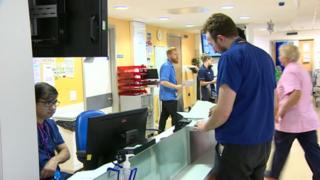 Two hospitals in Essex have reached capacity as a result of very high demand for services this winter.
Southend and Broomfield hospitals said they were at the highest level of pressure, declaring internal critical incidents.
However, Southend denied it was on high alert, despite a leaked email saying it had missed waiting time targets.
Both said they had cancelled routine operations on Wednesday to cope.
A leaked email to staff at Southend revealed 277 patients were admitted on Monday, with 101 being dealt with after the government's four-hour wait target.
In the email, Southend's medical director Neil Rothnie said it had issued the internal critical incident due to the number of acutely unwell patients arriving at the emergency department.
Mr Rothnie said that on the night and early hours of 1 and 2 January there were "no medical or surgical beds".
He said "ambulances were queuing for considerable periods of time throughout the night" with many patients "waiting for considerable time in the emergency department for speciality beds".
The hospital declared full capacity in the early hours of 2 January. As a consequence clinics were cancelled to free up clinicians.
But a spokesperson denied the hospital was on high alert.
"An 'internal critical incident' is an escalation term used within the Trust that enables us to quickly mobilise nurses and clinicians," Yvonne Blücher of Southend University NHS Foundation Trust said.
She added that by cancelling clinics and non-urgent meetings, it could "redeploy staff to clinical areas and keep patients safe should they require admission".
Meanwhile, a spokesman for Broomfield said it had been "consistently busy" over the holiday period.
"We are on internal significant incident and working with all of our partners across the system including EEAST [East of England Ambulance Service Trust] to ensure that the sickest patients are triaged and treated without delay," he said.