Clacton woman, 81, died after wait for ambulance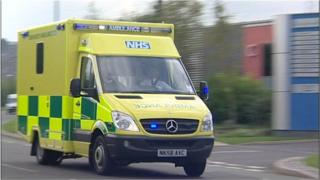 An ambulance service has apologised after an 81-year-old woman died at her home after waiting almost four hours for an ambulance.
The woman called 999 at about 20:00 on 1 January complaining of chest pains, but paramedics did not arrive until 23:46.
The woman was found unconscious and not breathing. She died at the scene.
The East of England Ambulance Service (EEAST) said it was "truly sorry" for the incident.
Sandy Brown, deputy chief executive at EEAST, said: "Due to extremely high demand on the service and delays at accident and emergency units, we were not able to immediately dispatch an ambulance.
"We had more than 4,200 calls across the East of England that day, more than 1,300 of which were in Essex."
'Extreme pressure'
Dave Powell, regional officer for the GMB, said it was "another example" of how crews were struggling to cope with higher demand in the winter.
Mr Powell said: "My concern is now that we are actually suffering deaths whilst people wait for ambulances."
He also added that cases like this are "much more widespread than the public is aware of".
Chief ambulance officer at the EEAST, Matt Broad, said on Thursday that the trust was "experiencing incredibly high demand and is under extreme pressure".
The ambulance service said its average daily volume of calls was about 3,000.