Lorries destroyed in Harwich Stena Line ship fire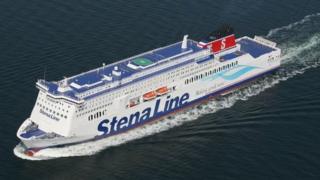 Lorries were destroyed in a fire on a passenger liner carrying 400 people.
Essex County Fire and Rescue Service said the Stena Line ship was due to dock at Harwich International Port, Essex, at about 05:00 GMT.
The fire started in a refrigerator lorry and spread to "several" surrounding vehicles, it added.
Stena Line said the ship, travelling from the Hook of Holland, carried on to Harwich after the fire was put out. It said no-one was injured.
Fire crews were called to Parkeston Quay by the coastguard at 04:20.
Jessica Slade, from Suffolk, said passengers were informed of the situation and could "smell the burning of a fire".
"There wasn't proper smoke, but it was a bit hazy," she said.
"The crew were all talking on their radios about the fire, and then the captain came on and told us about the fire. They were very honest with us, which as people and passengers you appreciate.
"It was very surreal seeing the fire engines lining up at Harwich. We counted eight, and we thought this isn't a little fire in the kitchen."
Incident commander Lee Lucas, from the fire service, said the fire was on a lower deck of the ship.
He said: "Once onboard firefighters began tackling the fire in sections and brought it under control quickly despite difficult conditions."
It said the the fire was extinguished by 07:00 and crews stayed on board to tackle hotspots.
Vehicles involved in the fire were taken off the ship at 10:15 while firefighters continued to work at the scene, it said.
The fire service said there will be an investigation into the cause of the fire.