Political party's diarrhoea reference 'deliberate'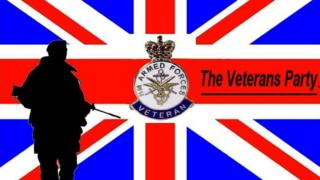 A new political party that based its name on initials more commonly associated with diarrhoea and vomiting has provoked hilarity on social media.
The Democrats and Veterans Party was set up by ex-serviceman and said it had already had 321 candidates ready to fight local and national elections.
Comments about its Twitter handle @TheDandVParty included: "Diarrhoea and vomiting party? Not a good acronym."
The party said it was deliberate as politics was "making them that sick".
Chairman Gavin Felton said: "It's all tongue in cheek, we're ex-squaddies so we know what it means and knew it was going to come up.
"We have a sense of humour. Politics is a serious business but there's a severe lack of humour."
The party, which is pro-Brexit and has said it is for everyone, is yet to be approved by the Electoral Commission.
It is due to be launched on 9 February.
Mr Felton, who went to school in Essex, said its policies would be debated and "our MPs, when we get some, will vote in line with their constituents".
All 17 UKIP councillors in Thurrock, Essex, - including an MEP - resigned from the party and formed a new group, Thurrock Independents, earlier this month.