Colchester Zoo vulture dies after landing on lion enclosure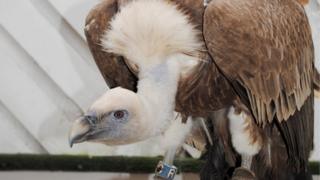 A vulture has died after it veered off course from a bird display and flew on to the top of a lion enclosure.
Colchester Zoo said Eurasian griffon vulture Yatsey, was "instinctively" grabbed by a lioness after it landed on netting above the lions on Sunday.
He was retrieved by keepers and seemed to have a treatable puncture wound, but died from shock on the way to the vet.
The zoo said the security of the lion enclosure had not been compromised, and thoughts were with Yatsey's keepers.
A spokesman for the zoo said 22-year-old Yatsey had a "big personality and was a much-loved member of the displays team who had been in the care of his keepers for 12 years".
"The keepers of the displays team had built a very close bond with Yatsey, as they do with all the animals in their care, and so this is a very sad time for them."
The zoo said Yatsey had been taking part in an educational bird display when he diverted from his usual course and landed on netting above the lion enclosure, which was designed to stop birds from entering.
"Our thoughts are with Yatsey's dedicated keepers whilst they are in mourning of their very sad loss," the spokesman added.
"We would like to thank visitors for their understanding and co-operation while keepers worked to retrieve Yatsey."