Margaret Sims death: Keeley Barnard 'rage' behind murder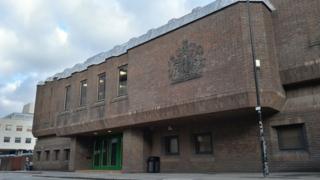 A daughter's "rage and frustration" led to her strangling her mother with such force that a bone was broken at the back of the older woman's throat, a court heard.
Margaret Sims, 70, died at a house in Stanford-le-Hope in August 2017.
Keeley Barnard, 52, is on trial at Chelmsford Crown Court and denies murdering her mother.
She allegedly told paramedics she had woken up to find Mrs Sims choking, prosecutor Andrew Jackson said.
"She strangled her [mother] in rage and frustration," he said of Ms Barnard.
"Such was her determination to end her mother's life, that she broke one of the bones at the back of her throat."
The jury was told Mrs Sims had Alzheimer's disease, which caused her to be occasionally "aggressive".
She had been reported missing on previous occasions to police and the decline in her health caused "considerable" anguish to her family, Mr Jackson said.
'Woken by gasping'
Mrs Sims, who was from Clacton, was staying at her other daughter's house at the time of her death on 19 August, the court heard, and was sharing a sofa bed with Ms Barnard, who lived in Chelmsford.
"The defendant told her sister and brother-in-law that their mother had suddenly died," Mr Jackson said.
"When police officers arrived on the scene, she told them that her mother put a pillow over her own face and had then stopped breathing."
She later told police she had been woken by her mother's gasping and that she, Mrs Barnard, had put her fingers down her mother's throat and around to neck to stop her from choking.
The court was told Mrs Barnard's husband had recently left her, and that she was an alcoholic who suffered from depression.
Mrs Barnard denies murder.
The trial continues.