Up to 55,000 smear re-tests in Essex may be needed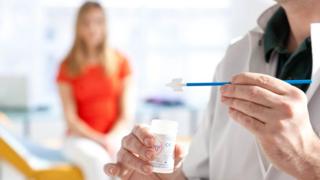 Up to 55,000 smear samples might need to be re-tested after a number of women were wrongly given the all-clear, it has emerged.
As first revealed by GP magazine Pulse, 17 women in Essex were wrongly told their results were normal.
They had been tested at a lab run jointly by Southend, Basildon and Thurrock Hospitals, and a private firm.
Public Health England has told the BBC tens of thousands of samples may have to be reviewed.
Women are unlikely to know if their samples are being re-tested unless they get called for further tests.
Basildon and Thurrock NHS Trust says 900 test results had been reviewed so far.
The first stage of re-testing, the trust said, will involve 2,500 re-tests.
Smear tests in the news
That testing is expected to be completed within the next two weeks, a hospital trust spokeswoman said.
If the results of that re-testing vary significantly from what would be expected, the spokeswoman said, then re-testing could be expanded to all 55,000 women who had smear tests during the past two years.
"We understand that this is a potentially worrying time for the women involved and would like to reassure all women covered by the locally provided cervical screening programme that this was an isolated incident," the trust said in a statement.
Cervical cancer facts
Cervical cancer is one of the most deadly but most preventable forms of cancer in women
It is the most common cancer in women under 35
About 3,000 cases are diagnosed every year in the UK and it causes 900 deaths
Public Health England says almost all the deaths are of older women who did not benefit from the HPV vaccination programme
Currently 85% of eligible girls are immunised and HPV vaccine rates in England are among the world's highest
The vaccine could save several hundred lives every year and also provide protection against other cancers and genital warts
Women aged 25 to 64 are automatically invited for cervical screening, which detects abnormal cell changes in the cervix
Source: Public Health England
The samples were reanalysed after issues were identified in the cervical screening lab service provided by Pathology First, the service jointly operated by the hospitals and Integrated Pathology Partnerships Limited.
An independent screening service was brought in to re-test the samples.
Of the 17 women who need further investigation, nine have been contacted for rescreening and eight have been referred for further tests.
Women whose re-analysed tests come out as negative will not be contacted, the trust said.