Canvey Island brain bleed man in 14 hour ambulance wait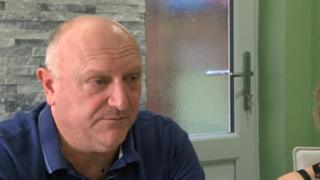 A man has told how he endured a 14-hour wait for an ambulance after suffering a brain haemorrhage.
Building site manager David Axford began to feel unwell at his home in Canvey Island, Essex, on 30 December.
He said after telling the 999 call handler his symptoms he was told a paramedic was being dispatched.
The East of England Ambulance Service (EEAS) said it was "under severe pressure and always tries to prioritise the most life-threatening calls".
The BBC was told that as the 48-year-old's condition worsened, his wife Kim repeatedly called 999 asking when the ambulance would arrive.
"I was in so much pain. I did not know what it was," Mr Axford said.
"It was the worst headache I have ever experienced. I felt my head was going to explode."
An ambulance service in turmoil?
On the third call, Mrs Axford said, the operator told her not to phone back unless it was an "absolute emergency".
"Dave was really poorly. I didn't think it was going to be that long," the fitness instructor said.
"He couldn't stand up, his left eye was drooping, he was slurring his words.
"He said there was a pinging in his head like an elastic band, he started to lose the feeling in his legs and he kept going in and out of consciousness."
'Critical condition'
The ambulance did not arrive until 14 hours after the first call.
After he arrived at Southend Hospital Mr Axford was taken for a scan which found he had suffered a bleed to the brain before he was moved to Queens Hospital in Romford in a critical condition.
He was discharged on 8 January but is undergoing continuing out-patient treatment.
The EEAS spokesman said the trust received 4,159 calls on 30 December and almost 1,300 of those were in Essex.
"The case is still under review and, as such, cannot be discussed until further information can be gained," he said.
"Our priority is with the patient and his family and any such conversations will be with them."