East of England Ambulance Service: Deaths figures disputed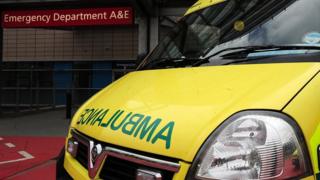 The new medical director of a health trust says an MP's claims that 81 patients died after ambulance delays "don't match" his figures.
Last week ex-health minister Norman Lamb said a whistleblower had revealed the deaths linked to East of England Ambulance Service (EEAS) delays.
Dr Tom Davis, of the EEAS, said the trust was investigating 22 "serious cases", 12 where patients died.
Mr Lamb said his information had come from a "highly credible source".
Dr Davis said the whistleblower had "breached information governance" rules.
He said there would be a full investigation, but would not be drawn on whether the whistleblower would be disciplined or sacked if discovered.
"I personally don't believe there was any information released that we as an organisation were not going to do the right thing with," he said.
Dr Davis said the ambulance service had internal procedures for alerting senior staff to concerns and these were not used by staff.
He said the allegations that 81 patients had died during the winter period "don't match the figures we have in the organisation".
Speaking in the House of Commons last week, Liberal Democrat MP for North Norfolk Mr Lamb said: "This is a service in crisis - patients are at risk."
Dr Davis said the whole NHS and the ambulance service faced major pressures during the winter period.
He said the trust believed it had the "appropriate resources", but found it faced problems with ambulances waiting at hospitals.
The EEAS has previously said it was reviewing a number of cases, including that of a man who was found dead outside his former home in freezing conditions.
In a series of tweets, it said it received a 999 call every 20 seconds at peak times, and had recruited more than 1,500 frontline staff since 2013-14.
Mr Lamb, who praised the work of ambulance crews across the region, told the BBC he took the concerns "very seriously".
He said the trust's emphasis on whistleblowers was "completely the wrong priority".
"The message should be: If you have concerns, speak out," said Mr Lamb.