Margaret Sims death: 999 call played to jury in Essex mother murder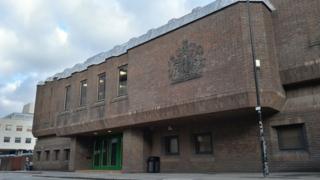 A 999 phone recording has been played to jurors in the trial of a woman accused of murdering her mother.
Keeley Barnard, 52, of Hopkins Mead, Chelmsford, denies strangling 70-year-old Alzheimer's patient Margaret Sims in a fit of rage.
In the emergency call played to the court, Mrs Barnard is heard telling the call handler how she found her mother.
"My mum just sort of had a pillow over her face and had Alzheimer's and just passed away," she said.
The defendant added: "I don't think there is any chance of resuscitation, I have seen dead bodies before."
Paramedic Tobias Langley told the court he attended the callout.
"I noticed bruising to her [Mrs Sims'] head and a pillow that appeared to have some blood stains," he said.
Prosecutor Andrew Jackson told Chelmsford Crown Court Mrs Barnard murdered her mother in "rage and frustration".
The trial continues.