Harlow drug suspect on 20th day of toilet strike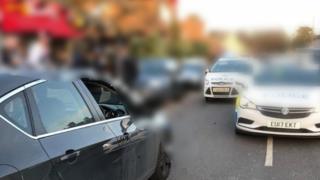 A suspected drug dealer thought to have concealed illicit substances inside his body has begun the 20th day of a self-imposed toilet strike.
Essex Police's Operation Raptor team arrested the 24-year-old man in Harlow on 17 January.
However, the suspected gang member is understood to have inserted a batch of drugs into his body.
Essex Police said the man, who is being kept on constant watch, was receiving daily medical assessments.
On Twitter, the Operation Raptor team has been providing daily updates using the hashtag #poowatch.
The police said it had publicised the case on social media in order to challenge the idea that gang membership or dealing in drugs was in some way "glamorous".
The man is being held in a cell under the constant supervision of police officers.
Essex Police has made a number of journeys to magistrates courts to seek extensions to the man's detention. The man has been charged with two counts of possession with intent to supply class A drugs.
A police spokeswoman said the longest a suspect had ever gone without using a toilet was believed to be 23 days.
The Howard League for Penal Reform said it hoped the situation was "resolved soon".