Stansted passenger jet made 'emergency descent' after pressure fail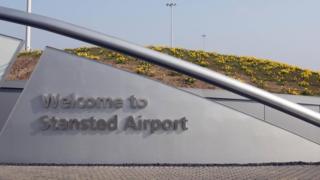 A passenger jet carrying more than 270 people was forced to make an "emergency descent" from 37,000 feet when its cabin pressure failed, a report found.
The charter flight from London Stansted to Rzeszow, Poland, issued a mayday call when alarms went off and oxygen masks came down.
It diverted to land at Amsterdam Schiphol Airport on 19 March.
An investigation found a faulty positive pressure relief valve (PPRV) meant it had not pressurised correctly.
The report by the Air Accidents Investigation Branch found the pilot of the Titan Air Boeing 767 brought the twin-engine plane down by 30,000 feet before landing in the Netherlands.
'Safe outcome'
The seatbelt signs automatically illuminated about 20 minutes after the plane, carrying 262 passengers and nine crew, took off.
Both of the aircraft's PPRVs were replaced during "heavy maintenance" before the flight, but a test prior to the flight had displayed no issues. A later examination found "no obvious reason for the malfunction".
The report concluded: "The maintenance checks of the replacement valves did not identify the defect with the faulty PPRV.
"The event was a failure to pressurise correctly, rather than a sudden depressurisation and the crew's timely actions in identifying the problem and carrying out the appropriate emergency procedures ensured a safe outcome."