Bunch of balloons in Billericay halts trains in their tracks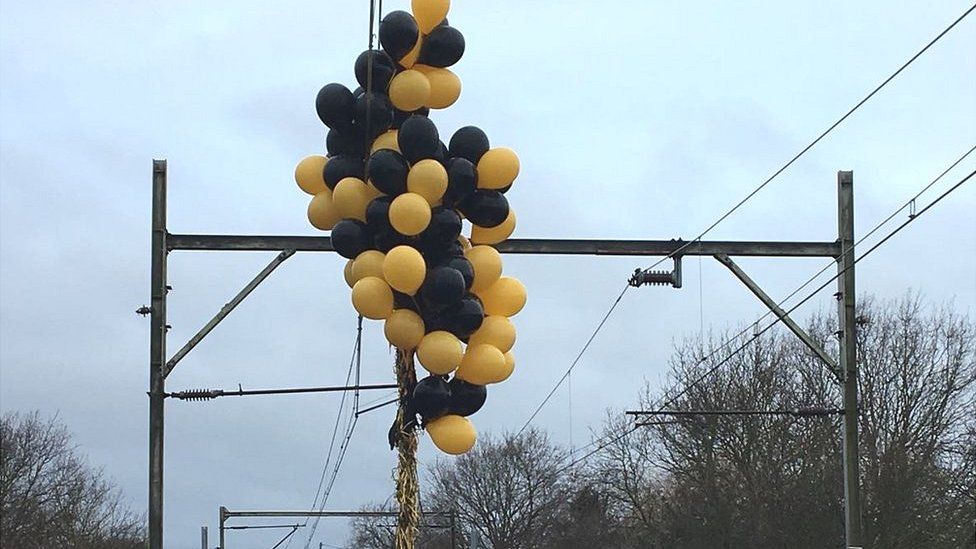 Rush-hour trains were disrupted for more than two hours by a bunch of balloons tangled on overhead lines.
Commuters using Greater Anglia services were delayed in the Billericay area of Essex when about 50 yellow and black balloons got stuck.
One commuter said his driver announced a "party balloon" was to blame.
Asked why a train could not plough through balloons, Greater Anglia said they could damage the train. Network Rail engineers removed them.
Disruption to trains started just after 08:00 GMT on Friday and lasted until 10:35.
Other stories you might like
Greater Anglia posted a picture of the balloons on Twitter, saying: "When we heard it was 30-40 balloons we said we needed a pic."
Dozens of people took to social media to comment on the obstruction.
One wrote: "That's enough to stop a thousand ton train, is it?"
Greater Anglia replied: "Yes it is.
"This can cause damage to the train or overhead wires if it wraps around the train's pantograph and causes entanglements."
One commuter said passengers were told a party balloon had halted their train.
On seeing the photograph, he wrote: "Wow, that's considerably more of an obstruction than the 'party balloon' referred to by our driver this morning."
It was "not quite 99 red balloons but I bet a few people have seen red about it", another wrote.
The company said while it understood passengers' frustration, "we cannot help if something does get caught in the overhead wires [and] we have no option other than to remove it safely".
Related Internet Links
The BBC is not responsible for the content of external sites.