Dagenham alleged puppy seller 'kept dogs in Barbie box'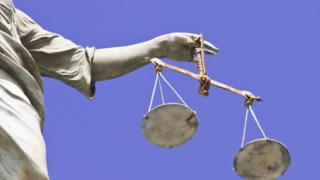 An alleged puppy seller kept "lethargic" dogs in a Barbie toy box, a court has heard.
Seven dogs, including a puppy who later died, were seized from the home of Victoria Montgomery, 55, in Barking, east London, in October 2014.
RSPCA inspector William Rippon told Southend Magistrates' Court there was a very bad smell and that he saw "fleas moving" on one puppy.
Ms Montgomery is charged with failing to ensure the welfare of seven dogs.
The court heard four dogs were found in a crate and two puppies were in a pink Barbie toy box at the property.
Prosecutor Hazel Stevens said Ms Montgomery, alongside others, was involved in breeding and selling animals.
"The prosecution says there is a failure to take reasonable steps in relation to these puppies to meet their needs as set out by good practice," she said.
The court heard Ms Montgomery, now of Dagenham, said she wanted to give the dogs to her grandchildren and keep one for herself.
Albert Brazier, 64, and Teresa Wade, 58, both of Aveley in Essex, are also charged under the Animal Welfare Act.
Mr Brazier is accused of three counts of failing in his duty to ensure animal welfare and two counts of causing unnecessary suffering to a protected animal.
Ms Wade is charged with three counts of failing in her duty to ensure animal welfare. Their case is yet to be opened.
The case, which has been brought by the RSPCA, has been adjourned to Wednesday.