Essex Police inspector keeps job after neighbour attack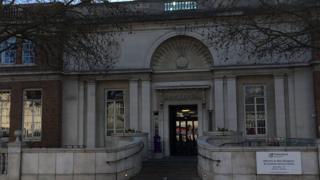 A policeman who grabbed his neighbour by the throat during a row over building materials has kept his job.
Essex Police Insp Andrew Parkman admitted gross misconduct at a hearing in Chelmsford.
It heard he was convicted of assaulting David Morris by beating last year after the attack on 13 June 2016.
The misconduct panel said Parkman's actions were "unacceptable" and a discredit to the force. He will be given a final written warning.
During the hearing at the Civic Centre it was heard Parkman, an officer of 29 years, was off duty at the time of the assault.
The four-minute "heated altercation" broke out over a small amount of building materials which were encroaching on Parkman's driveway at The Fairways in Cold Norton, Chelmsford.
Parkman, 52, was ordered to pay £1,000 in compensation and £800 in prosecution courts at Ipswich Magistrates' Court on 26 May 2017, it was heard.
The panel was told Parkman, who was described as a "model police inspector", had an unblemished record and "deeply regretted" the attack.