Essex County Council raises council tax by 4.99%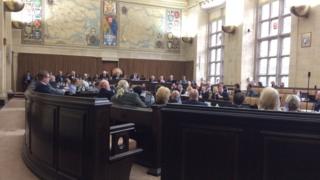 Essex County Council has approved this year's budget, which sees its element of council tax bills rise by 4.99%.
The average Band D household will pay £1,222.77 per year from from April, an increase of £58.
The Conservative-run authority said it would invest £300m in infrastructure, including roads, schools and broadband.
Labour and Liberal Democrat councillors voted against the budget over concerns there is not enough money for adult social care and children's services.
David Finch, council leader, called the tax rise a "difficult decision" but said it had been frozen on five of the past eight years.
At the council's budget meeting he said: "We need to ensure effective services not just for today, but for the future.
"Therefore, this budget proposes an ambitious investment of more than £300m into Essex's infrastructure."
That includes plans to invest £14m in broadband, £126m into major road schemes with an additional £3m set aside for potholes and footpath repairs.
The council also promised to invest about £100m in schools to create an additional 2,750 places.
The council's total budget for 2018-19 is £1,824m, compared to £1,773m the previous year.
It says it has cut £350m in the past four years and plans to save £59m in the next financial year by improving efficiency.
The main opposition groups proposed amendments to the budget, which were voted down.
The Liberal Democrats called for a £2.5m fund to be created to reduce pressures in social care services and speed up the discharge of patients from hospital.
The party said more money should be spent on youth services including mentoring and respite for young carers.
Labour called for reviews of children's and adult services to assess the impact of budget cuts in recent years.
Council tax is due to rise in 95% of authorities, while 93% will hike service fees, according to the 2018 State of Local Government Finance research.