Keeley Barnard: Daughter guilty of strangling her own mum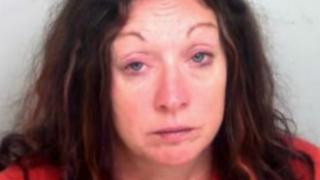 A woman who strangled her own mother with such force that a bone was broken in the older woman's throat has been given a life sentence for murder.
Keeley Barnard, 52, killed Alzheimer's sufferer Margaret Sims while sharing a sofa-bed at a family gathering in Stanford-le-Hope in August 2017.
The court heard Mrs Sims, 70, was killed in "rage and frustration".
Barnard, of Hopkins Mead, Chelmsford, denied murder but was found guilty and jailed for a minimum of 18 years.
At the time of her death on 19 August, Mrs Sims, from Clacton, was staying at her other daughter's house.
Barnard told her sister and brother-in-law her mother had died "suddenly".
When police arrived Barnard told them her mother had put a pillow on her face and stopped breathing.
She later told police she had been woken by her mother's gasping and that she, Mrs Barnard, had put her fingers down her mother's throat and around to neck to stop her from choking.
Bruising was found on Mrs Sims neck but Barnard claimed any injuries she caused must have been through her attempts at CPR.
It took the jury just over three hours to convict Barnard of murder.
Det Insp Stuart Truss from Essex Police said: "This was a very sad case, which left Margaret's family shocked and devastated by her sudden death.
"She was a vulnerable, elderly lady who was unable to defend herself and Barnard took advantage of this when committing this terrible crime.
"This verdict ensures that justice has been served for Margaret and her family."