Army veteran Chris Nowell's photos exhibited in Chelmsford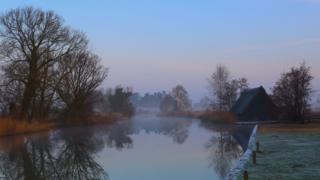 Photographs taken by injured and disabled veterans as therapy have gone on display as part of an exhibition to raise funds for an Army charity.
It features work by Chris Nowell, who lost much of his sight after being hit by a rocket in Afghanistan in 2007 while serving in the Army.
Veterans' Images on Parade will raise funds for ABF The Soldiers' Charity.
The exhibition is at Chelmsford Cathedral before touring to Ipswich, Colchester and Cambridge.
Mr Nowell, 34, from Dronfield in Derbyshire, took up photography as "an excuse to get out" after he spent a year recovering from his injuries.
He suffered memory loss after extensive skull fractures and brain damage, leaving him totally blind in his right eye and with deteriorating eyesight in his left eye.
His treatment included an introduction to photography course by the charity Blind Veterans UK.
The former Lance Corporal said: "I was sitting around at home and I was fed-up. My wife Claire encouraged me to take photographs, something clicked and it gave me such a boost.
"It's more than a hobby now."
Mr Nowell, who has no peripheral vision in his left eye, helps train other partially-sighted veterans in photography.
There are 150 photographs in the exhibition, all taken by veterans of the British armed forces.
The free exhibition is at Chelmsford Cathedral until 17 February.
It will then tour to Colchester Officers' Club, Ipswich Town Hall and Trinity College, Cambridge.