Clacton Pier pier to get £4m makeover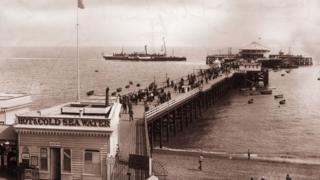 Clacton Pier is to get a £4m revamp which will include a £500,000 indoor and outdoor adventure golf course.
The regenerated pier, which dates back to the 1870s, will also feature a £500,000 play area, dodgems and new food and drink facilities.
The new investment, announced by the pier, will also provide heated undercover areas try and attract more visitors in cold weather.
The owner of the pier, Billy Ball, said it should secure its future.
Mr Ball said a bank loan would fund the investment.
"We had a scheme on the drawing board, but just how far we could take it depended on what money was available," he said.
"We were always going to make significant improvements, but now we can proceed with Plan A as we have the £4m we were seeking to borrow and pay back over the next 20 years.
"The aim is to create the largest multi-use indoor entertainment centre in the country."
Mick Skeels, cabinet member for tourism at Tendring District Council, said: "It is great to see so much private sector confidence, which shows how far Tendring has come as a visitor destination.
"This investment, coupled with great events such as the Sea and Beach Festivals and of course the Clacton Airshow puts our district on the map for tourists."
Clacton Pier is also buying a new £75,000 transformer to provide all the power needed to run the 6.5 acre site.
Its 1930s power supply is coming to the end of its natural life.