Nico Ramsay murder case: Court told of 'planned attack'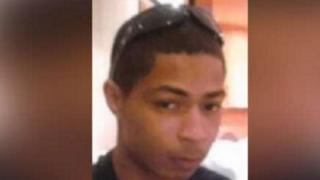 A drug dealer fled to South America after killing a teenage boy in a "planned attack," a court has heard.
Nico Ramsay, 19, from London, died in February 2016, four days after he was found with a stab wound to the chest in Napier Avenue in Southend.
Allcie Houlder, 23, who denies murder, was arrested in Caracas, the capital of Venezuela, in November 2016.
CCTV footage played at the start of his trial showed Mr Ramsay being stabbed twice in the chest.
Chelmsford Crown Court was told the teenager was chased and bundled to the ground by three men in Queens Road in Southend.
Prosecutor Jason Bartfeld QC said the men were involved in the same drug network but had fallen out in the previous few weeks.
Mr Bartfeld said the defendant, of Mantle Way, Stratford, accepts that he wielded the weapon that killed Mr Ramsay.
The prosecutor, who described the killing as a "planned attack", added: "We anticipate that he will say that he was acting in lawful self-defence, or, alternatively, he will say that when he stabbed him through the chest and through the heart, he didn't intend to cause serious harm or death."
The trial continues.