Stansted Airport fire forces cancellation of flights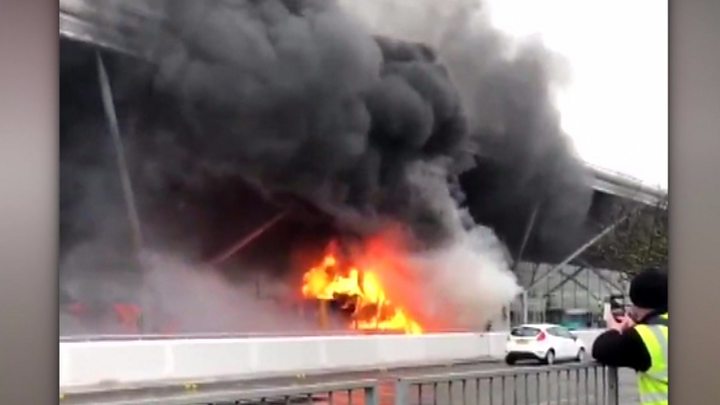 All departing flights from Stansted Airport have been cancelled until midnight after a bus caught fire outside the terminal.
Witnesses reported seeing thick smoke as the blaze "completely destroyed" the shuttle bus, parked in a waiting area.
The fire also caused smoke damage to "much of the front of the terminal building," firefighters said.
Bosses at the Essex airport apologised and advised passengers to re-book their flights with their airlines.
You may also be interested in:
On Friday evening, the airport said no injuries had been reported and that the fire - which was extinguished at about 17:00 BST - had been caused by an engine electrical fault on the bus.
"The fire has since been put out and we're working on returning to normal operations," a spokesperson added.
Later, however, the airport tweeted to announce the cancellation of all outgoing flights.
Julia Buckley, who was at the airport as the fire burned, tweeted the BBC to say: "In arrivals. Saw thick smoke as plane was landing. Can't see anything from here. Can smell smoke though. But atmosphere is calm."
Essex Fire Service said four fire crews had been sent to the scene.